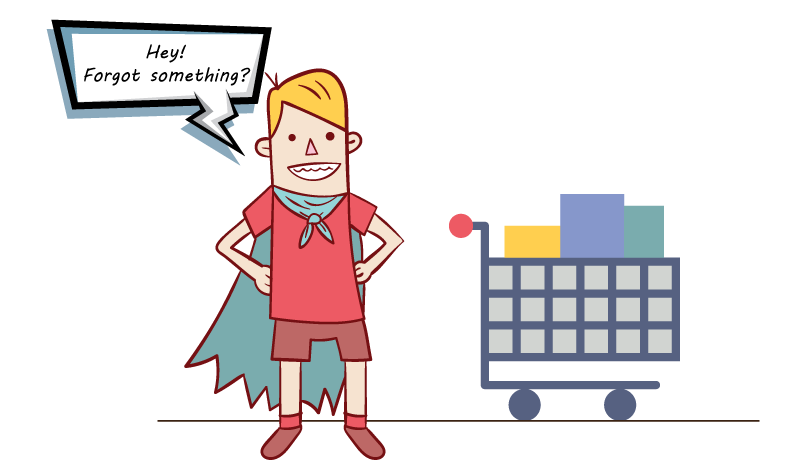 See how our e-commerce partners get customers to come back to the store and make a purchase.
Shopping cart abandonment has been one of the biggest hurdles for eCommerce, ever since its inception. With no real interaction to nudge a customer, globally, more than 69% carts are abandoned before making a purchase.
Why Do Customers Abandon Their Shopping Carts Online?
You have worked so hard to get the word out about your store, spent thousands of dollars on marketing, built a neat app, mobile website but the sales just aren't converting.
This is where you need to see why customers aren't completing their orders. One thing you need to keep in mind is that bringing a potential customer to your store is just half the battle. Making them buy a product is another. Given that the customer has already shown interest in the product by adding it to their cart, it is easier to target them than new prospects who may just be browsing.
According to a survey carried out in 2016, the major reasons for cart abandonment include:
Unexpected Costs – Shipping, Packaging
Product too expensive or better deal at another store
Complicated website navigation, timeouts, crashes
Return policy not specified or inconvenient
Lack of payment options
Payment security concerns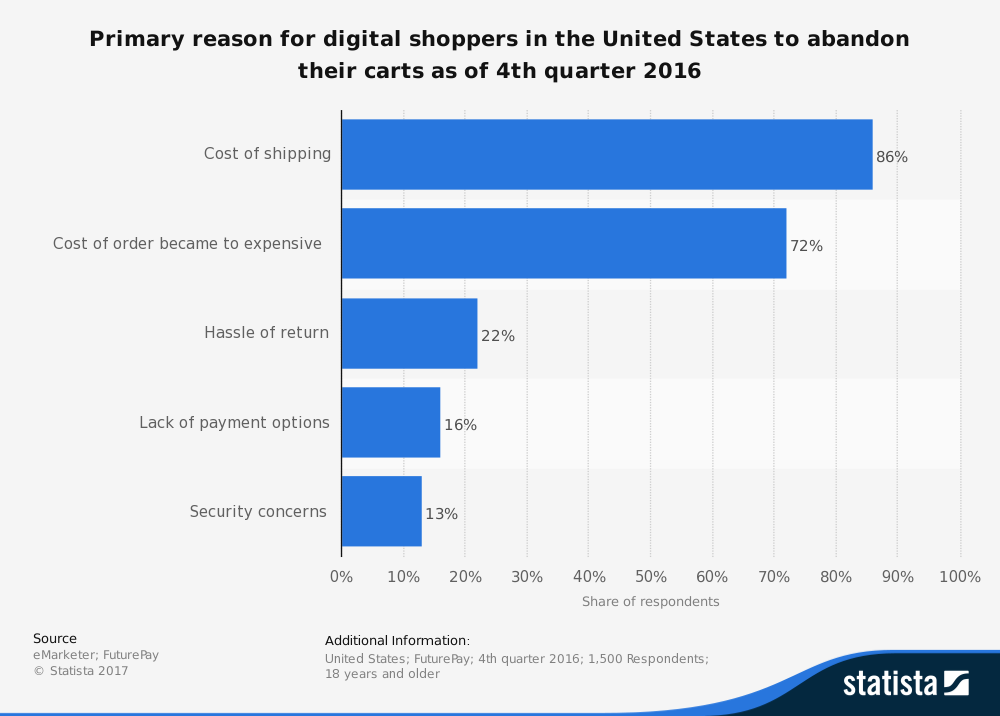 Once you have found the root cause of why users are abandoning their carts, we can move on to getting them back to the store for making a purchase. Simplifying the checkout process on an eCommerce store is the easiest way to significantly reduce cart abandonment.
Strategies for Automated Abandoned Cart Recovery Push Notifications
Focusing on the lifetime value of customers, smoother ordering process and intuitive UI should help in reducing cart abandonment. But to boost engagement further, your marketing team may already be using emails to reach out to users but they lack the immediate impact of push notifications.
So how should you create a push notification to get prospects to come back and complete their purchase?
Convert the passive shopper into an active customer
Sometimes your customers may add a product to their cart but also search for it in other stores to check prices. If they are interested in the product but don't really need it, your lead may get cold soon. This is the best time to reach out and send a push notification with an incentive to entice the unsure buyer into making a purchase.
Based on feedback from customers and our eCommerce partners, providing free shipping or an instant discount code works best to get passive customers back to the store.
Build an Urgency around the transaction for Wishlist Shoppers
Many customers add products to carts just to create wishlists so that they don't forget what they wanted later on. Since their cart isn't going to expire, they leave the products there and come back to it later at their own convenience. This is where you can capitalize by creating an urgency to complete the transaction.
A limited time discount or a notification saying that the product may go out of stock has been seen to be very effective in handling such cart abandonments.
Get Feedback from customers on why they abandoned their purchase and offer help
Price may not be the only reason why a customer didn't complete their order. There can be several reasons why the checkout didn't complete including website errors, payment failure and so on. If you are seeing a higher frequency of cart abandonments, it is better to ask for feedback from customers.
A simple notification with contact details, phone number or link to contact page can go a long way to make the customer seem special. Even though the error which prevented them from making a purchase may have put them off, this simple gesture can help you get valuable feedback and in turn convert the lost sale.
Send a simple reminder to let customers know they forget something in their cart
Your customers may sometimes just forget to checkout unintentionally. So, it may not be a matter of price but an interruption while making their purchase.
A reminder here that they forgot something in their cart would work best here. Now, these cases would be rare but you can always test the efficacy of your campaign by checking if they are improving your conversions.
Don't sound robotic
Everyone in general hates generic messages. Personalization is the key to keep your users engaged and feel welcome. Instead of a basic reminder of a product in a cart, add some character to it. An image of the product in the cart, the name of the customer within the notification helps them identify with the website and the product they wanted to purchase. Add some personality to notifications with a catchy line or a well meaning joke.
Remember that we are creating lifetime customers here, so a little bit of work should go into personalizing notifications.
When should you send a push notification, before the customer leaves or after some time?
Sending a push notification at the right time can help in converting these leads. Sending an alert as soon as the customer leaves the site can be a bit counterproductive and irk most users. While if you are too late in sending the notification, the customer may have made a purchase somewhere else or you may have just lost that lead. Therefore, you need to create balance as to when to reach out to the customer.
According to our research, a minimum time of 30 minutes should be given to the customer after they have abandoned their carts to come back. If they don't come back within the stipulated time, a single notification can be sent out after that.
Getting Push Notifications Right Is The Key To Improving Customer Retention
Consider the point of view of customers, they are bombarded with notifications left and right. Whether they are on their laptops or phones, every app or eCommerce website tries to take the same approach to customer retention – firing automated notifications after the customer exits the store or app.
Although automation is necessary, you can personalize notifications based on what the user has ordered and their previous transactions with you. Using their first name, the total number of items in cart or the image of the product won't just help in brand recall but also bring the customer back into your funnel.
Understand the reasons why your customers are abandoning their carts, get the feedback from your customers and test your funnels to see if there are any issues there. Streamline the checkout process and then send push notifications at the appropriate time to bring customers back. As with any marketing campaign test and refine your strategy.
You can enable PushAlert's advanced automated Abandoned Cart recovery on any eCommerce platform. Just follow the steps in the tutorial and reach out to our Support team to activate it on your account.