Push notifications allow your users to opt-in for timely updates from your website and for you to effectively re-engage them with customized, engaging content. Today, we'll tell you how you can use push notifications to improve your sales, revenue, current reach and bring users back to your site. With the ever increasing number of emails, your mail can go unnoticed or even end up in spam but push notifications are delivered right front and center, that too in real-time and therefore, can't go unnoticed.
For mobile users, they appear as native notifications as if sent from a native app and the best part is, all this happens even if the user is not on your website or the web browser is closed. Then there are the savings from not having to create a separate Mobile App. Web Push Notifications are supported by major browsers including Chrome, Firefox and works on mobile and tablet devices as well.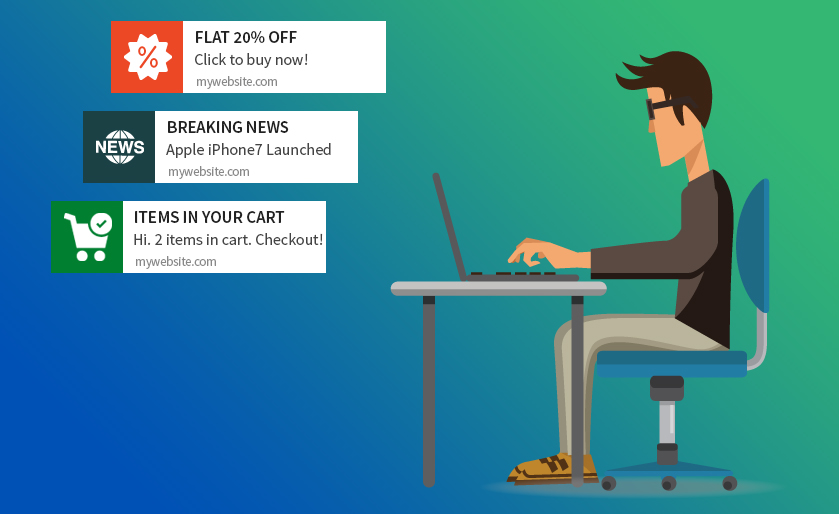 Here is how you can use Push Notifications to drive more sales, revenue, and users to your website:
Discounts and Offers: Announce discounts and offers instantly via notifications and drive users to convert into customers, boosting both revenue and engagement.
New Product or Promotion: Notify users about new products, launch, or a promotion.
New Articles and Videos: Engage users with interesting articles and videos at the right time when the content is trending. This timely push will boost your reach significantly.
Personalized Recommendation: Recommend personalized products and content related to them.
Abandoned Carts: Remind your customers about products left in carts and increase your sales. You can also recommend similar products that customers order together to upsell.
Notify about time-sensitive updates: Tell users about the status of their order, whether it's shipped or out of delivery. Later, you can even ask users to rate the product they bought, which again boosts sales indirectly.
Renewal: Remind users about the product and service they're using, to renew or reorder or refill. This works great with subscription based services.
In-stock Again: Based on user's preferences, you can notify when out of stock products are available again. This is a sure shot sale.
Price Drop: Notify users about price-drop on products in real-time, converting them to direct sales.
There are several other scenarios where Browser Push Notifications can be very helpful and can increase your reach as well as sales. With Push Notifications you will be able to get higher engagement on your content by sending them to users at the right time.
Don't wait, register now at PushAlert and increase your sales and engagement with users.