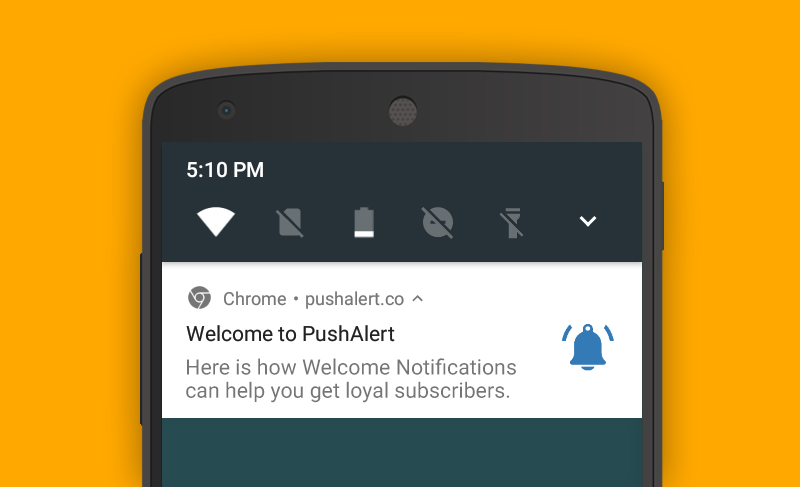 Push Notifications are still a relatively new concept on the web especially for your visitors, so it makes sense to make them as unobtrusive as possible. Given that these provide a more direct channel of communication with your subscribers, a simple welcome notification can really do wonders. But that's not all a Welcome Notification can also be used to get a sale, or to re-engage content.
Why should you use welcome notifications?
This is the first notification your subscriber will get as soon as they allow to see notifications from your website. It is analogous to the first impression of your website or service. More than 70% of your visitors, after pressing the allow button would be waiting for some acknowledgment similar to what we get with email subscriptions. It helps built rapport with your audience. But that's not all, given that this would be the first contact with your customer you can make it personal and encourage engagement. Think of it as a warm welcome which opens the door to a conversation. These also build an expectation about updates from your website and your subscribers will look forward to those. They now have a clear idea of what to expect with a notification and what happens when it is clicked, it brings familiarity to an otherwise new form of engagement.
Moreover, welcome notifications are automated, so you don't have to worry about sending them yourself. All you need to do is customize the message you want to send across. It can just be a thanks for subscription, an irresistible offer or discount coupon code, to show that you value the subscription.
These can also be pushed to re-engage your new audience with your older popular content, this keeps the engagement alive and adds value to the interaction. You can also create special landing pages for your new subscribers to help them understand what your site is all about, showing content/offers you want to highlight. Just remember that even if you are pushing for a conversion, it should be subtle.
Given that these would be delivered right front and center, you wouldn't want to overwhelm your subscribers. Keep the messaging simple, and it is not always necessary to push for a sale. You can see an example of a welcome notification with a discount coupon for the next visit which can help in getting more repeat traffic:




There are a lot of ways you can use a welcome notification, and these are just templates of what you can try. Keep on experimenting with new messages, titles or even images to see what works best for your audience.