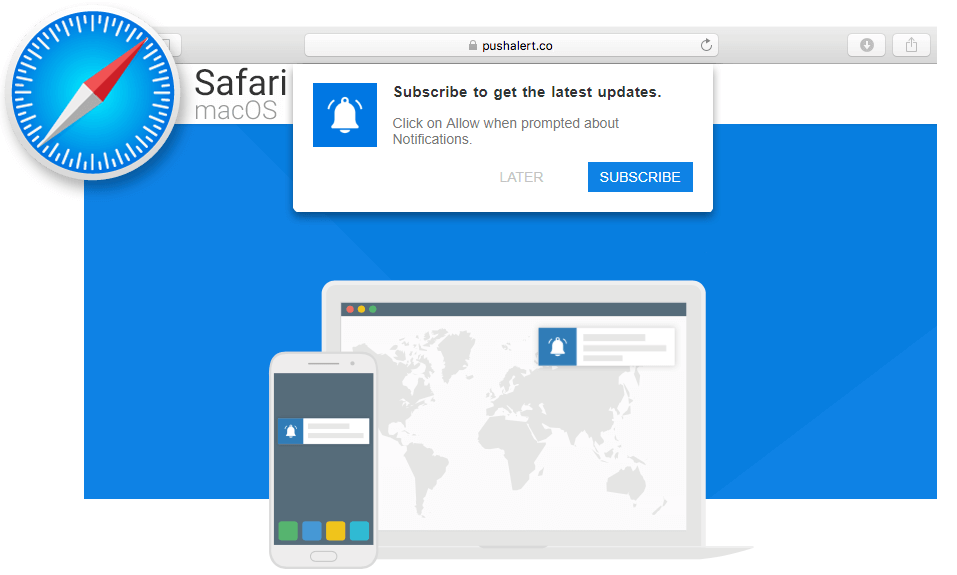 With the ever changing landscape of marketing, web push notifications have now found a significant space.
Push Notifications on the web have finally established itself as the go-to channel for re-targeting and customer-retention. Being such a popular channel has also caused browser vendors to check the misuse of the channel.
Apple has taken a step in the right direction by making it compulsory to use 2-step opt-in on Safari on MacOS. We have always recommended the use of 2-step opt-ins for all browsers, since it gives the users a reason to subscribe to notifications. Furthermore, 2-step opt-ins also reduce subscriber churn (unsubscription) in the long run.
With the new Safari 12 update, Apple has made it mandatory for a manual trigger to bring up the native web push opt-in. Earlier, you could trigger the Safari native browser opt-in automatically, but now it requires user action.
This can be a button or a 2-step opt-in which provides some context to users as to why they would be interested in receiving browser notifications.
Steps taken by PushAlert for changes in Safari browser notifications Opt-in (APNS)
We have added new Opt-in section specifically for Safari, Settings > Opt-in Box Safari (Only enabled if you have added Safari Configuration on your account).
Once you login to your Dashboard, click on your site head to Settings. There you will see the new option for Opt-in Box Safari.
If you were already using 2-step Opt-in, then the Safari opt-in will show the same text. You just need to save settings here once.
If you were using 1-click opt-in earlier, you can separately use the 2-step opt-in for Safari from the setting mentioned in Step 2. The opt-in for all other browsers will not be affected by this change.
Once you have customized the text for the Safari opt-in, you have to click on Save and Continue. That's it.
While this may affect subscription rate, the reduction in subscriber churn would offset that change. Moreover, this will help you build an informed, loyal subscriber base of users who actually want to receive notifications on new offers, sale or content updates, resulting in better conversion rate.
What do you think about the recent changes to Safari web push notifications and opt-in? Do you agree with the changes made by Apple to web push opt-in on Safari? Do let us know.