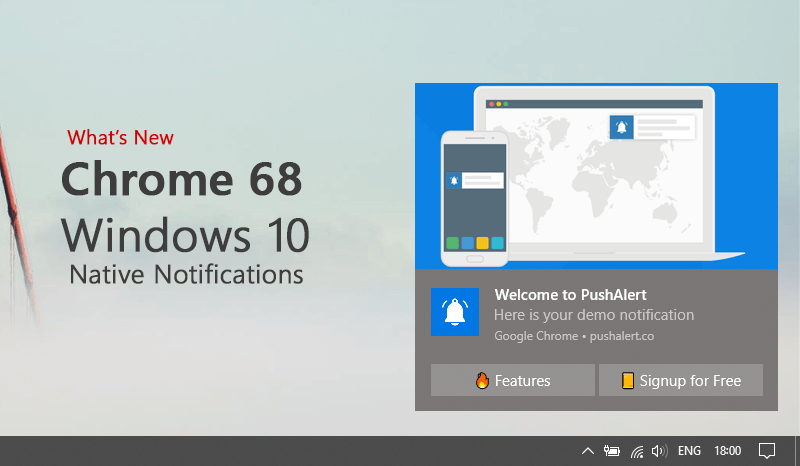 We knew this was coming and it is finally here. Google Chrome 68 and 69 now supports Windows 10 native notifications that live in the Action Center. According to Peter Beverloo from Google, half of the current Chrome 68 users have had their native Windows 10 notifications enabled by default while the rest will get in the coming week. This represents a major change with Chrome on Windows both in terms of how the web push notifications look and behave. Till now Chrome Notifications on Windows didn't have a way of interacting with later, but now they live in the Action Center.  This will have far-reaching effects on engagement and should result in higher click-through.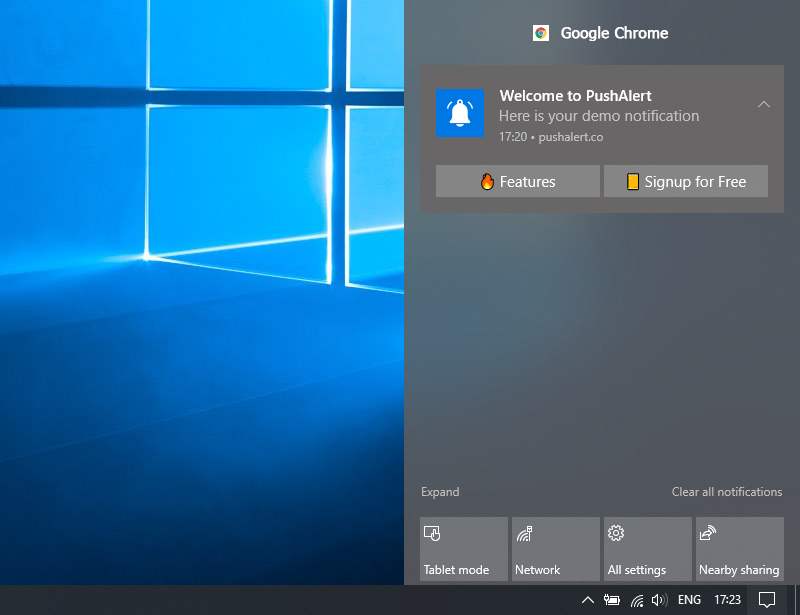 This will allow users to check on their important notifications anytime from the Action Center, and they can choose to interact with them or remove them. This makes the notification experience on Windows more consistent, whether you are using Opera, Edge, Chrome or any Windows 10 app, all notifications will appear in the Action Center.
Here's a look at what has changed with Chrome Windows 10 Native Notifications
Notification Design
The browser notifications now use Windows 10's native UI. You can see the image above, instead of the close button you have an arrow which hides the notification in the action center where your subscribers can interact with later. Large Image notifications are still available as well, with the image taking center stage at the very top of the notification while the action buttons are placed below the main notification body. Another change to note here is that the Action Buttons now appear side by side, instead of on top of each other. You can still add up to 2 action buttons on a notification.
Notification Image Size (Large Image)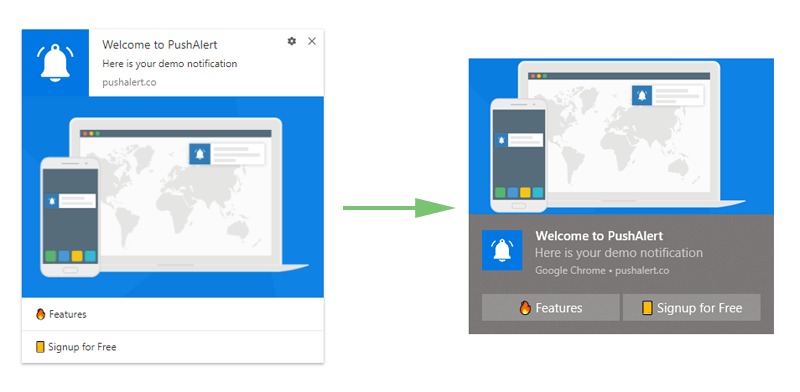 Google has opted to go with Windows 10's recommended Image size for notifications. Microsoft suggests an image size of 364 x 180 pixels for 100% coverage without any cropping but we will provide you with PushAlert's new recommended large image template to use the same image across all platforms (
check this page for an update
).
Notification Auto-hide (Require Interaction)
Earlier Chrome Notifications did not auto-hide if you hadn't checked the option in your PushAlert dashboard to auto-hide the notification after 20 seconds. From now on Chrome Notifications on Windows 10 will auto-hide to the Action Center, after they have been shown to the subscriber. To change this behavior you can add an Action Button to the notification.

If there is an Action Button present in the notification, it will not hide automatically and instead will wait for the user to interact with the notification. This is the biggest change in web push notification behavior.
Notification Sound
Chrome browser notifications used to be silent, now they will be able to produce a sound alert on Windows 10 as well. Based on the choice of the subscriber, notifications can create a sound to alert them. This will definitely boost engagement and bring even more focus to the notifications. Given that Chrome notifications now follow Windows 10's native interface, they will also follow Windows 10's Focus Assist feature to mute notifications when you're running a game or in do-not-disturb mode. But the notifications will still be available to view later in the Action Center. The update is still rolling out, there may be some other changes down the line, which we will update you on. Keep a lookout at our blog for further updates.