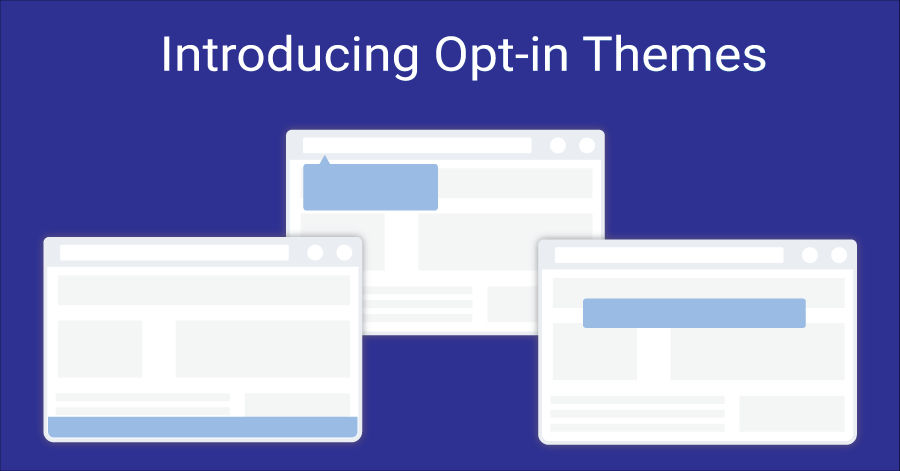 To make the Push Notification experience on your website more customizable, user-friendly and uniform across various browsers, we are introducing opt-in box themes. There are several themes to choose from which are completely customizable from text to colors. This gives you the opportunity to make your visitors understand the benefit of getting push notifications such as being notified of regular updates, upcoming offers or new content, in your own words.
Moreover, the new opt-in boxes will match the theme of your website and can be shown after a chosen delay so that your visitors have already appreciated the content/product they were here for. Generally, the push notification opt-in should be shown within the first 5-10 seconds of a visit for maximum conversion. Just head over to Website Settings and you will find a new Opt-in Box option there. So now in total, you have 5 opt-in methods to choose from:
None – If you don't choose an opt-in, you would need to enable the widget which would show the opt-in popup within itself at the bottom or right side of the screen depending on the widget you have chosen. This is the least intrusive of all opt-in methods, and but does fetch lesser subscriptions.
Default browser opt-in – Not customizable, and it just gives the user a default prompt asking for permission to show notifications. But it may get better opt-in rates.
Box – This new theme allows you to show a rectangular opt-in box sliding from the top or bottom or appearing in the center. It has customizable buttons, text as well as colors. You can completely match it to the theme of your website. It's nonintrusive and can be programmed to appear after a set delay.
Bar – This is a strip which appears either at the top or bottom of the screen. It can be customized with bright colors to immediately draw attention and trigger a response from a visitor.
Wide-box – This bar style theme appears at a fixed height on your visitors' screen for maximum conversion. It sits directly in the eye-line of your visitors when it appears on the screen and is again fully customizable.
Apart from the second option, all of these themes will trigger the default browser opt-in after clicking the "Allow" button, so it makes the process a tad bit longer but it also gives the push notification subscription process more context for your subscribers. It allows you to connect with your audience better and will cause less abandonment. Moreover, due to the two-step process, there are fewer chances that your visitors will outright block notifications without even trying them once. Combined with a Welcome Notification and our Widget, the new themes are bound to provide more subscriptions and as a result, higher conversions.